Are you considering buying a genuine El Casco® Stapler? If it is the case, maybe you might be a little confused by their different model numbers. The spanish manufacturer decide to use different numbers even for machines which share the same specifications and only differ in their appearence.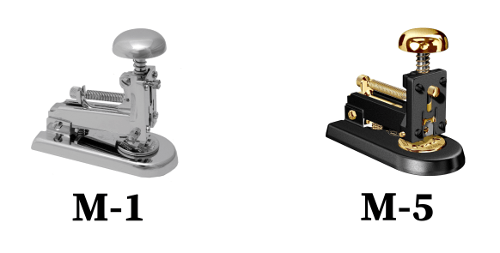 El Casco staplers are available with different colors and finish—though there are more possibilities for the smaller ones (e.g. gold coated with black matt painting staplers are not available in all sizes).
The M-1 and M-5 staplers are the smaller ones (and more affordable too)
The El Casco M-1 stapler and the M-5 are indeed the same model. They only differ in the finish. These are small desktop staplers. Their capacity, paper depth and staple loader are exactly the same.
El Casco – Grapadora de escritorio m5ct – cromado
Comprar en Amazon
El Casco M-1 - Grapadora de sobremesa
Comprar en Amazon
El Casco - Grapadora pequeña (23 quilates), color dorado y negro
Comprar en Amazon
Their dimensions are: 51 mm wide, 95 mm tall and 115 mm depth. This stapler can staple up to twenty five sheets. The loader can hold just a block of staples (i.e. fifty staples). The maximum stapling depth it is five centimeters. It is the smallest stapler built by El Casco. A very nice and compact desktop stapler. Discreet yet efective.
El Casco M-15 and M-10: mid capacity staplers
Again, two equal machines with different names. These staplers have the same height as their small siblings but are a little wider and longer, specifically, six milimiters wider and seventeen milimeters longer.
El Casco M-15 - Grapadora sobremesa, color cromado
Comprar en Amazon
El Casco M-15L grapadora, grande, 23 quilates chapado en oro
Comprar en Amazon
Surprisingly their stapling capacity it's the same: twenty five sheets. They double the loader capacity though: up to one hundred staples. Also, they have a deeper stapling depth: eight centimeters. If you are in doubt, buy one of these, they are between the most popular El Casco staplers.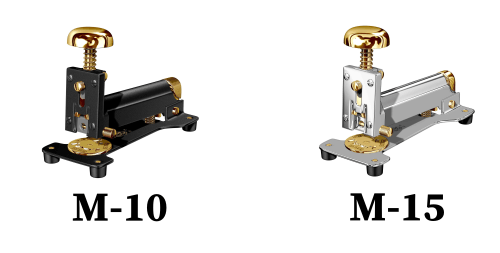 M-30: a heavy duty, high capacity stapler by El Casco
This is the biggest El Casco stapler. A heavy duty model, it can staple up to ninety documents! The loader and the paper depth do not increase though. Their dimensions are a little bigger: 150x58x108 mm.
A good buying option too, very robust and resistant, ideal for heavy duty office stapling tasks.
El Casco M-30 - Grapadora de sobremesa
Comprar en Amazon
El Casco 1035CRB - Grapadora
Comprar en Amazon
You can buy this stapler with two finishes: chrome plated or gray matt painting.